The local soup kitchen is where survivors congregate and get free food, probably supported by 4C. The soup kitchen is inside an abandoned building, where the survivors have set up makeshift tables, chairs and sleeping mats. It is operated by the Chef, an older man that has taken it upon himself to cook and feed survivors in need.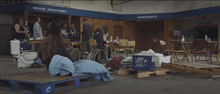 Ad blocker interference detected!
Wikia is a free-to-use site that makes money from advertising. We have a modified experience for viewers using ad blockers

Wikia is not accessible if you've made further modifications. Remove the custom ad blocker rule(s) and the page will load as expected.