The Sky Medix Virology Lab became Sky Medix's base of operations after the extremist attack. This facility is one of the few fully operational locations left after the outbreak. It is powered by arc pellets and full of doctors, nurses and scientists. They have been incentivizing expectant mothers to give birth at the facility, because an oxygen-rich environment helps the babies get through the most fatal stages of infection. Dr. Mitchell Scott has been conducting research on babies to find a vaccine after the original research was lost. The whole facility is dedicated to finding a new vaccine and helping the next generation survive.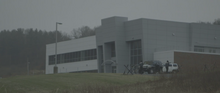 Ad blocker interference detected!
Wikia is a free-to-use site that makes money from advertising. We have a modified experience for viewers using ad blockers

Wikia is not accessible if you've made further modifications. Remove the custom ad blocker rule(s) and the page will load as expected.